What is Delibar
Delibar is a full featured Delicious and Pinboard Mac client. Delibar focuses on giving Mac OS X users an easy and quick tool for searching, managing and sharing their bookmarks. Delibar will be your best friend while using Delicious or Pinboard!
Delibar will work on any Mac with Mac OS X Snow Leopard
We are currently offering Delibar in a free and a pro version. You can try the pro version for 2 weeks, then Delibar will automatically switch to the free version.

Find the bookmarks you are looking for instantly
Delibar is like Spotlight for your bookmarks! Just bring up the main window by clicking one of the Delibar icons and start typing: the bookmarks will be filtered by matching url / title / notes / tags with your search.
When you are satisfied by your search, you can open your bookmark by double cliking on it or by selecting and hitting enter, or you can save the search for a later use.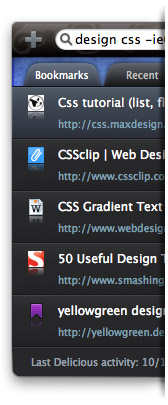 Smart searches for smart people
Sometimes a simple search is just not enough, like when part of the search matches a tag name and you don't want a list of all your bookmarks with that tag.
Delibar will allow you to use smart operators inside your search: you can use the "-" and "+" operator to exclude or include the next word or search a full phrase by enclosing it with quotes.
Adding bookmarks to your account is only 1 click away
Delibar is integrated with any Mac browser, so you can add bookmarks to Delicious or Pinboard.in without effort. Just use the global hot key or install the bookmarklets (menu " Help -> Install Bookmarklets ") and you are ready to add bookmarks to your account.
Delibar will fill in your title, url and notes (your current selection inside the page) and will present you with a list of tags suggested by Delicious.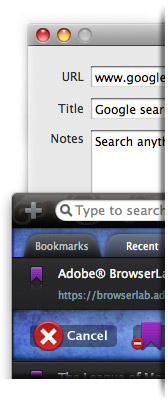 Edit, Delete, Organize? Delibar can do it!
Need to Edit or Delete a bookmark? No problem, Delibar is here to solve your problem! You can edit a bookmark in the same nice window you already used to add it, and deleting a bookmark is only a matter of one click.
Doing the same search over and over? Save it and you will have it ready at hand! Opening and reopening Delibar for clicking the same bookmarks? Detach the current search in a floating panel! Delibar is here to serve you.
Stay in touch with your network
Delibar will show you the bookmarks saved on Delicious by the people that are in your network. A nice growl notification will popup when someone puts a new bookmark on his/her account. Delibar also keeps track of which bookmarks you have already visited, so you can leave a marked website that you want to check out later.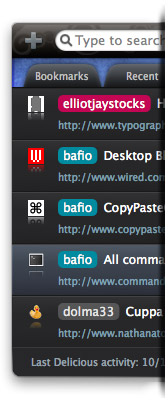 Special searches
Delibar allows you to use some special searches that will show you information about your Delibar usage:
@tags:(space separed tags list): search bookmarks by a list of tags
@top(n°): will display the n° most clicked bookmarks
@dino: will display your oldest and least clicked bookmarks
@last(n°): will display the n° last clicked bookmarks
Additional information